Bathroom Renovation Services In Boston, MA, And Nearby Areas
About Bathroom Renovation Services
Need to replace your sink or toilet? Thinking of changing out your old tub? Looking to renovate your entire bathroom?
No matter what your needs are, the experts at PROTO HOME SERVICE are prepared to help you make them a reality! We are premier bathroom remodeling or Renovator contractors in Quincy, MA, and Nearby Areas, providing a full range of solutions from concept to execution. Trusting an experienced PROTO HOME SERVICE plumber is the best way for longevity in any bathroom remodeling venture because we use the proper safety equipment as well as have the best knowledge on how installation warranties work when it comes to your bathroom appliances. Irrespective of the reason, you can always browse for bathroom renovations near me and change the look and feel of your bath area instantly.
PROTO HOME SERVICE Bathroom Renovation Service
No matter whether your bathroom requires a basic remodeling or conversion from tub to shower, the bath renovations services are ready to help with the complete solutions. Their work starts with appropriate planning for the renovation and ends with complete bathroom fixing, transforming the bathroom to be the way it was desired to be.
Design a bathroom that exceeds your needs with practical and attractive fixtures and versatile accessories to complete any powder room, half bath, or main bathroom project. Enhance your bathroom and improve its functionality with quality fixtures and faucets. Installing freestanding or alcove tub, a walk-in shower stall, or a combination unit to suit your floor plan.
Bathroom remodeling and renovation services are a trendy and cost-effective investment, and these services are focused on the following areas of bathroom renovation.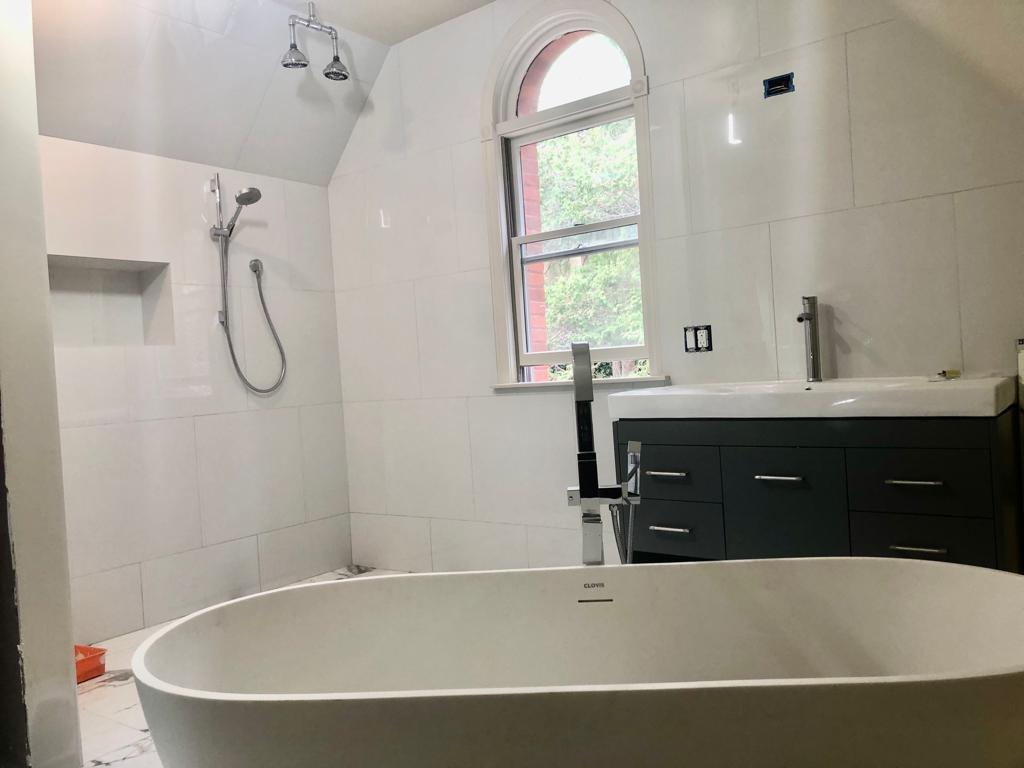 Fixture replacement or installations
Water pipe repositioning or installation
Drain connection installations
Sewer line connection installations or repositioning
Water softener installations
Complete Bathroom Renovation
Irrespective of whether you are looking for a basic remodeling of the bathroom or focusing on converting from tub to shower, you can get instant help by browsing for bath renovation near me. Our comprehensive services will focus on complete designing of the bath area and project completion within the least timeframe, ensuring that it fits in your budget and space.
Our experts will offer a plethora of possibilities in creating a bathroom that you have always wanted. We are capable of revamping your bathroom completely from a build-in old-fashioned area to a beautiful place that you will enjoy and cherish for years to come. Browse for bath renovation near me now, and get in touch with us for a world-class bath area with quality installations and products. 
Do you want to upgrade the interiors of your bathroom, switch the fixtures in the bath area or put in new flooring or tiles? We are here to help. Search for bathroom renovations near me and contact us; our executives will keep in touch with you to offer unique bathroom solutions for your home.
Get 10% Off Your First Appointment
We consider the customer to be the most important person in our business. We depend on customers to bring us their requirements and is our job every day to make every important aspect of the customer experience a little better. The customer's perception is our reality. What really matters for our business is what the customer sees and experiences
Visit Us
14 Lothrop Avenue Milton, MA 02186
Message Us
peri.protoservic@gmail.com