Kitchen Sink Installation Services In Boston, MA And Nearby Areas
The Kitchen sink Installation
The kitchen sink installation is a project that many homeowners dread. However, if done correctly, it can be a relatively easy and affordable repair. 
Start by measuring the area where you want to install your new sink.

Check the drain line – Make sure there is no debris buildup in the drain line before starting the installation. This can lead to clogging and potential flooding.

Get a good installation kit – Choose an installation kit that includes all of the necessary parts and tools.
With the expert help from PROTO HOME SERVICE  you can easily get your kitchen sink installation done quickly and enjoy the best quality of work.
How PROTO HOME SERVICE Install a Kitchen Sink
The hardest part of setting up a new sink and faucet is connecting the faucet s tailpiece to the drain pipes. Start with the drain pipe closest to the sink tailpiece and then work up to the source. That's where a swivel P-trap with a trap adapter shines, as it can swing from side to side on two axes or adjust up and down. Before you head to the shop, We recommend drawing up a map as needed using the illustration pictured here and checking the inside diameters of the tailpiece and waste line, which are often 1 and a half inches. Then, instead of purchasing a kit, just get the pieces you need, including Schedule 40 PVC pipe, to cut and fit as needed.
Why Choose PROTO HOME SERVICE for Kitchen sink installation?
There are a lot of different kitchen sink installation companies out there, but why choosePROTO HOME SERVICE? Here are 4 reasons: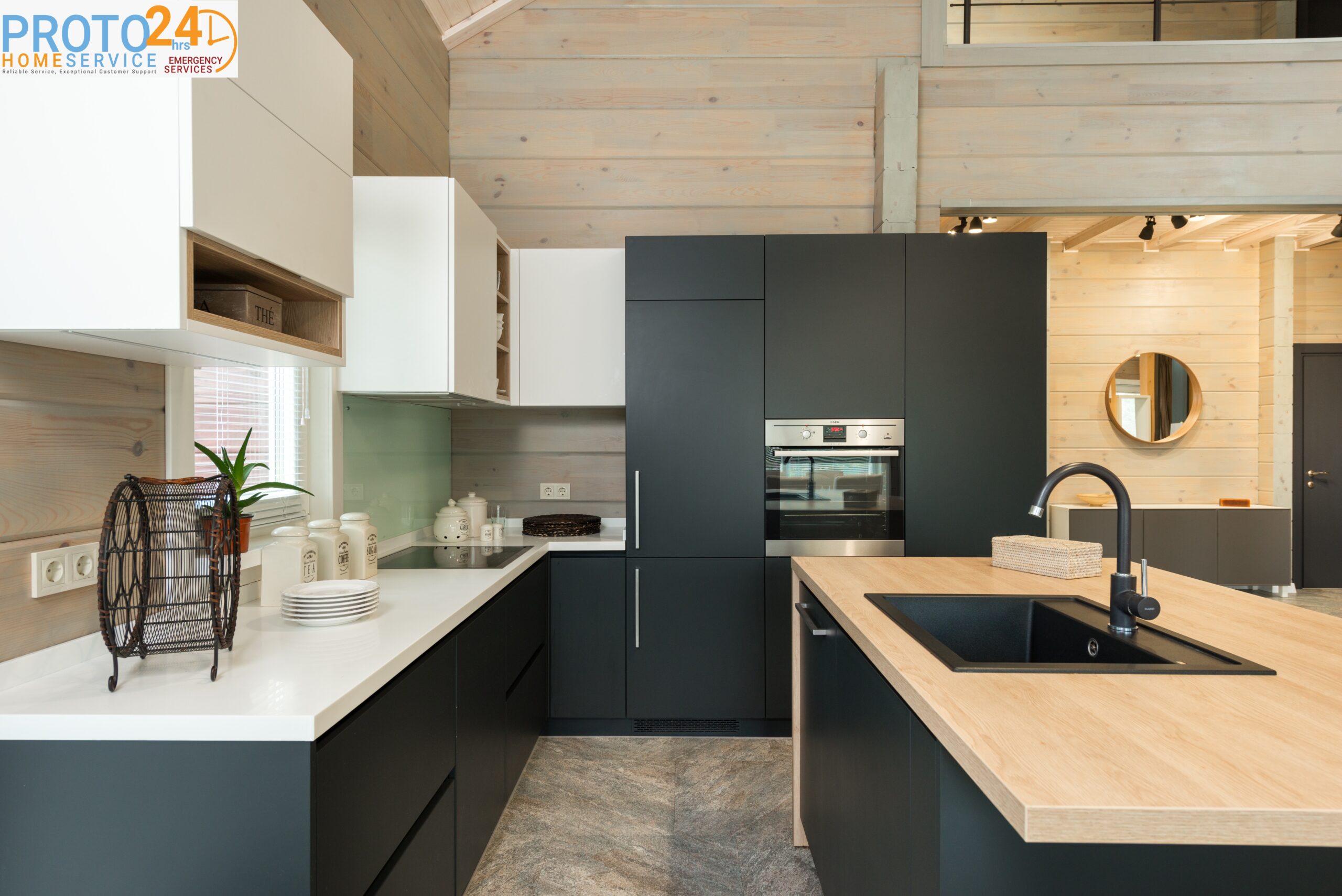 We're experienced professionals with over 25 years of experience in the industry.
We always use the latest technology and equipment during kitchen sink installation, so you can be sure that your sink will look great and function flawlessly.
Our team is highly skilled in dealing with difficult plumbing installations, so you can rest assured that your kitchen sink will be installed quickly and smoothly.
 We offer a 100% satisfaction guarantee on all our work, so if you have any problems after we've completed the installation, we'll be sure to fix them for you free of charge.
Steps involve in Kitchen sink installation
Layout Mark the cut lines onto the counter Measure the Kitchen Sink Layout and mark its feed openings with a jigsaw Cut an opening in the sink with a jigsaw Install a Kitchen Sink Faucet Attach a strainer onto the plumber's putty Set sink and connect it to water supply Connect the drain pipes Attach the dishwasher drain and clean up.
Call Us now For quick Kitchen sink installation
Looking for a professional kitchen sink installation company? Look no further than PROTO HOME SERVICE! Our team of experienced professionals is skilled in both installation and repair work, so you can be sure that your new kitchen sink will be installed correctly and repaired in a timely manner.
Get 10% Off Your First Appointment
Schedule An Appointment
Or Get an Instant Quote
Visit Us
14 Lothrop Avenue Milton, MA 02186
Message Us
peri.protoservic@gmail.com