Boiler Installation Boston, MA, And Nearby Areas
Boiler Installation
Boilers play an important role in creating comfortable and functional environments. If this equipment fails, you would be left with no running hot water in apartments, hotels, or hospitals, freezing cold offices and classrooms, and no steam for industrial applications. A boiler breakdown can be avoidable with effective boiler repair and installation services. Have a look at the advantages of having a regular boiler installation and repair right below.
Boiler Installation Services
Gives You an Intact Guarantee
A new boiler's warranty might be voided if it is not serviced on a regular basis. Many manufacturers expressly request an annual Gas Safe inspection every year. If this obligation is not met, any emergency boiler repairs would be covered by the guarantee.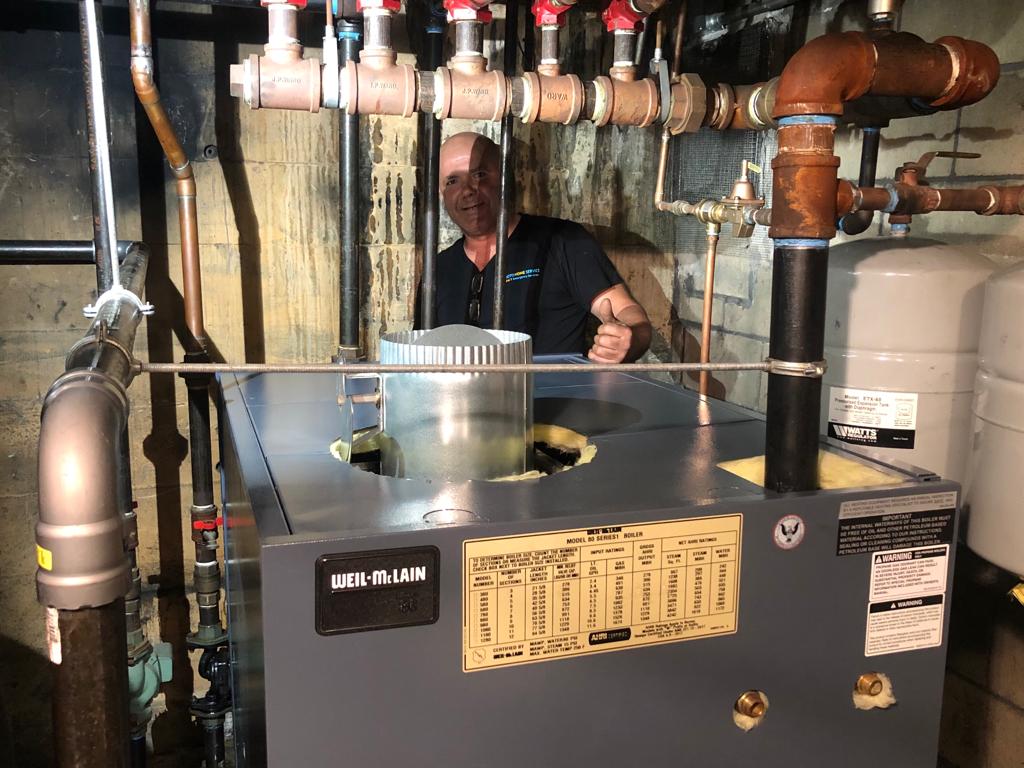 Cost-effective in the Long-term
Annual or irregular boiler maintenance can keep your boiler operating well for longer periods of time. An expert can stop a boiler from generating excessive waste which will minimize your carbon footprint and energy bills. Furthermore, regular boiler maintenance keeps your system running smoothly for a longer period of time. This means you are less likely to have to pay for future boiler repair and installation services. Regular checks can detect treatable and minor issues before they become major ones.
Maximum Safety and Protection
Boiler malfunctions and persistent boiler problems can be dangerous. You can prevent explosions, fires, and any gas or carbon monoxide leaks from the boiler by having an accredited boiler expert inspect your equipment. Carbon monoxide is a fatal gas that can kill you quickly. As a result, it is recommended that you have your boiler serviced on a regular basis and install a carbon monoxide detector to protect everyone in your home or office.
Keeps You Away from Getting Too Cold
The best times to perform boiler maintenance are in the spring or summer. When the weather turns cooler, more people rely on their central heating. Servicing a boiler in the summer can help find problems before you have to deal with them in the winter. It provides you with the extra assurance that you can stay warm during the winter.
Unusual High Utility Bill
Your bills would naturally rise during the winter months, but if you notice that they are higher than last year's or higher than what your neighbors are paying, there might be a problem. Boiler units in the process of failing will operate inefficiently, resulting in a significant increase in your monthly energy bill. Then it is time to call the boiler professionals.
Keeps You Compliant
Legally, annual gas safety checks are required for commercial properties and rented housing. It is the landlord's duty to ensure that the pipelines, appliances, flues, and other equipment are maintained, functional, and appropriately operating by requesting an evaluation from a Gas Safe boiler engineer. They should ask for inspections every year and maintain the certificate on record for two years.
ProtoHomeService is the company that offers the guaranteed services of boiler installation and repair at suitable rates. If any part of your boiler does not pass their thorough inspection, they can replace any worn-out or damaged parts, including valves and pipes. They can also remove the boiler from any scaling, corrosion, or other signs of damage.
If you want proactive and flexible boiler repair services for your space, you can certainly approach this popular company. So get ready to get your boiler serviced or repaired at the right time with ProtoHomeService.
Get 10% Off Your First Appointment
Schedule An Appointment
Or Get an Instant Quote
Visit Us
191 Lowe Avenue, Stoughton, MA 02072
Message Us
peri.protoservic@gmail.com