Tankless water heater Service In Boston, MA, And Nearby Areas
Tankless water heater
Water heaters are a must in households located in cold areas. People residing here have an increased need for hot water, without influencing their energy bills. Tankless water heaters are an ideal option for them as they do not rely on tanks to store specific gallons of hot water for immediate use. On contrary, these water heaters possess a heat exchanger that turns on only when someone operates the hot water tap. Thus, the water heats up, only when required, and only when someone operates the hot water tap. 
Advantages Of Tankless Water Heaters
There are major advantages to using a tankless water heater.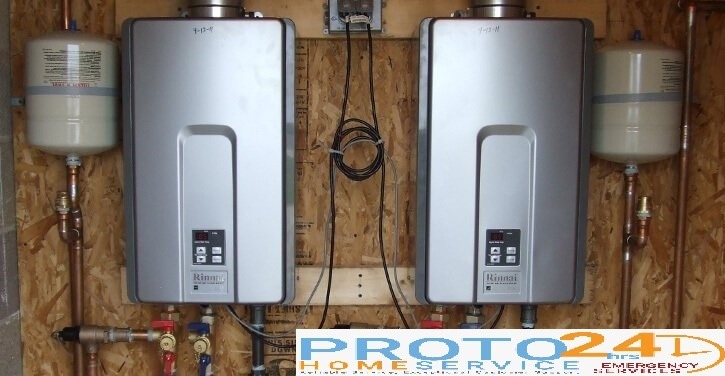 Hot water will be supplied only on demand, and it thus reduces energy consumption by 35%.
A tankless water heater is an ideal choice for enjoying a constant supply of hot water
The units take up less space and thus there is flexibility in the placement of these units.
They are safe, as they don't store scalding hot water.
Their inbuilt safety systems will shut down if any problems arise in the heater.
Tankless water heaters have great advantages over their counterparts. But they require professional maintenance to enhance their life span. With regular service and maintenance, these heaters can last for up to 20 years or longer than a storage tank heater.
Tankless Water Heater Service
Tankless water heaters carry tremendous advantages for house owners. To ensure that they continue to work smoothly, they demand occasional service and maintenance. Appropriate tankless water heater service will help to avoid problems such as,
            – System overload will eventually result in the failure of the water heater
            – Excess accumulation of mineral deposits in the water heater
            – Blockage in the air supply for the unit
            – Instances of ignition failure.
If you think that the tankless water heater is not functioning to its optimal capacity, it is mandatory to schedule a service with experts immediately. Our team of water heater service experts is available round the clock to address any sort of trouble with the tankless water heaters. We will arrive at the facility with a fully stocked fleet of trucks, to help complete any type of repairs on-site.
Our experts will not just stop with repairing the failed parts, but they also render preventive water heater maintenance to avoid problems in the future. We perform a thorough inspection, along with descaling to remove the excess mineral build-up in the heater and heat exchanger. Our plumbing technicians are experts with exceptional knowledge and hands-on experience in working for different types of water heaters. Being a top-rated tankless water heater service center, we guarantee our craftsmanship and offer warranties on the components we replace. Call us today or schedule an appointment with our team today, to preserve the life of your heater and to ensure that it works for many years without trouble.
Get 10% Off Your First Appointment
We consider the customer to be the most important person in our business. We depend on customers to bring us their requirements and is our job every day to make every important aspect of the customer experience a little better. The customer's perception is our reality. What really matters for our business is what the customer sees and experiences.
Visit Us
191 Lowe Avenue, Stoughton, MA 02072
Message Us
peri.protoservic@gmail.com